Best places to visit in north India- North India tourism
Best Places to visit in North India: Do you want an escape from your daily drill? Want to enjoy the fresh air and the console of nature's lap?
So, here we have got a collection of the best places in India where you can chill, relax and rejuvenate your energy at very affordable prices. India is a land with different climate, landforms, food, and culture. Every state has got its unique style. While visiting new places in India can be very adventurous. 
So, get ready to bump on the list of best places to visit in India and get your travel monster ready for the next trip
The first name in the list is:
1. Kashmir:
Kashmir is also known as "heaven of earth". With its magnificent beauty and natural views it is one of the famous tourist spots in India. The weather, mountains, Dal lake, orchids all are ready to give you a warm welcome.
You can find serenity and peace running all through body and mind. The snow-covered mountains and the shiny water of lakes will leave you speechless. The beauty of the Himalayas and Pir Panjal range is picturesque.
Main Attractions:
Srinagar, Gulmarg, Sonamarg, Dudu, Amarnath, Jammu city, Hemis, Ananthnag, Kishtwar National Park
Best time to visit: The beauty of Kashmir is at its peak from October to December
Activities: In Srinagar, you can go to Mughal gardens, Stay in boathouse and Shikara ride in Gulmarg you can go for trekking, Skiing, Mountain Trekking and Gondola ride in Anantnag you can go for sightseeing, temples and day trip.
How to reach : You can reach the places by bus, trains and fightsb very easily.
2 .Shimla
Shimla was once the summer capital of Britisher's. It is in the Himachal Pradesh state of India. It is one of the best hill stations that India has. Situated in the lap of Himalayas, Shimla can make anyone fall in love with its beauty, peace, and hills. The city has got many perfect picture destinations, trekking destinations, and handmade stuff market.
You can easily escape from the noise and stress of Metro cities and enjoy your weekends in Shimla. queen Shimla has got beautiful hills, snow-covered mountains, rivers, and green lush valleys.
Shimla has also got a cluster of 7 hills that adds to its beauty. hills queen Shimla has got specific names for these hills. (Best Places to visit in North India)
Best time to visit: The best time to visit the beautiful place is between October to March. It is a total NO for monsoon season
Best places to visit in Shimla:
The famous mall road : It looks eye soothing at night.
Summer Hill : for its breathtaking beauty and deodar forest. This hill was marked for escaping the heat during summers.
Annadale: This is a flat space that is used by golf lovers. Earlier it was a favorite of Britishers for running and racecourse.
Chadwick Falls: The water in this falls from an altitude of more than 1500  feet. The waterfall surrounded by lush green forests of deodar and pines is totally awesome and is jaw-dropping.
The water shines when sunlight falls on it. It is best place for picture and shoot
Kufri:The place is best for ice skating and skiing. This is also known as the sports capital. You can also click some of the best pictures with snow covered mountains. It is at a distance of 40 minutes from Shimla.
Green Valley : This gives a never ending scene of lush green forest. The beauty is mesmerizing and you will be spellbound.The place is perfect for sightseeing and picturing.
Ladakh market: The market is full of handmade things.The place has beautiful handmade products of wood. The market has a variety of wooden toys, walking sticks, other wooden items and Indian street food.
How to reach: When you visit there do not miss a chance to travel through toy trains between Kalka and Shimla. You can so go through buses and other personal modes of transport.
3. Uttrakhand:
Uttarakhand is also known as Dev Bhoomi and is another famous hill station. The UK also you can find rivers, pine and deodar forests, hills and snow-covered mountains. Apart from the beautiful scenic beauty, you will find the different living styles and cultures of people over here.
Best time to Visit: The best time of the year to visit Uttarakhand is from October to April
Best Places to Visit:  (Best Places to visit in North India)
Rishikesh: This is a famous place for yoga studies. 
Valley of Flowers:
Mussoorie:  Known as the queen of hills is the best way to treat yourself during the weekend.
Nainital : It is one of the crowded tourist places. You can enjoy boat ride in lake and other activities available there depending upon season
Almora and Bageshwar: They are famous places to beat the heat of sun. Bageshwar holds religious values also. The famous Bagnath temple along with the rivers, mountains and scenic beauty increases the value of these places.It is in kumaon district of Uttarakhand.
Munsiyari: This is a famous place amongst peace lovers and spiritual practitioners. The scenic beauty and the serenity of this place will leave your soul happy and satisfied.
Devprayag: The place again holds the holy value as it witness the simultaneous flow of Alaknanda and Bhagirathi, and you can easily distinct the boundaries of two rivers as water do not merge with each other
Auli: Also known as  " Mini Switzerland" the place is located at high altitude with snow-covered mountains and mesmerizing natural beauty.
Jim Corbett National Park : This is a wildlife reserve that protects tigers and elephants. You can enjoy safari and beautiful beauty and amazing restaurants.
Apart from above places the other famous places are Gaumukh, Joshimath, Chamoli, Chopata, Kedarnath, Abbott Mount (haunted), Pithoragarh and many other places.
How to reach there: You can reach the places by bus, car, flights to the nearest airport and trains to the nearest station around the spots.
4. Delhi :
The capital of India is marked by the glorious history of India. The city holds many forts and historical monuments. The state has been capital since ages and many important political decisions took place from here only. 
Best time to Visit : October to February
Best Places to Visit :  DELHI
Red Fort : the place marks the glorified time when Mughals(Akbar) ruled India from this fort
India Gate : The palace was made to remember all the warriors who die during the fights .
Qutub Minar : Situated in Mehrauli is another masterpiece
Chandni Chowk: the oldest city of Delhi situated in old Delhi still holds the colors and flavours
of old ages. The streets and Mahollas are still old designed and reflects the history of India.
Bangla Sahib : The religious place in Connaught place is a great place for peace and religious sentiments
Purana Qila (old fort): The magnificent entrance marks the strong infrastructure of the time. Inside it there are many other historic structures that demonstrate the way of living during the time in spite of many ruined walls and infrastructure.
Moreover there are other places like Zoo, National museum, Rail Museum, Tibet market, Cafes, Markets and recently added National War Memorial
How to reach : You can easily reach Delhi by bus, railways and flights. One can easily roam in place by car, auto or the best is metro .
5. Uttar Pradesh
This is the largest province of India and holds many ancient historical pieces of evidence and mysteries. The city marks many devastated and looted forts. Uttar Pradesh has many temples and other religious places.
Best Time to Visit : During Winters (October to February)
Best Places to Visit: UP
Agra: Agra holds the stories of the Mughal Era. You can see the Taj Mahal, Agra Fort, Fatehpur Sikri, and Panch Mahal.
Lucknow: Also known as "City of Nawabs". The city was the capital of Awadh's Nawab and hence the taste of Nawab's is still reflected in the living of the people. The city has got music, literature, embroidery work and taste of food. Here you can visit Hazrat Mahal, Lucknow Museum, Zoo, Chatar Manzil and others.
Varanasi: situated on the Banks of holy river Ganga, the place is the religious center of India.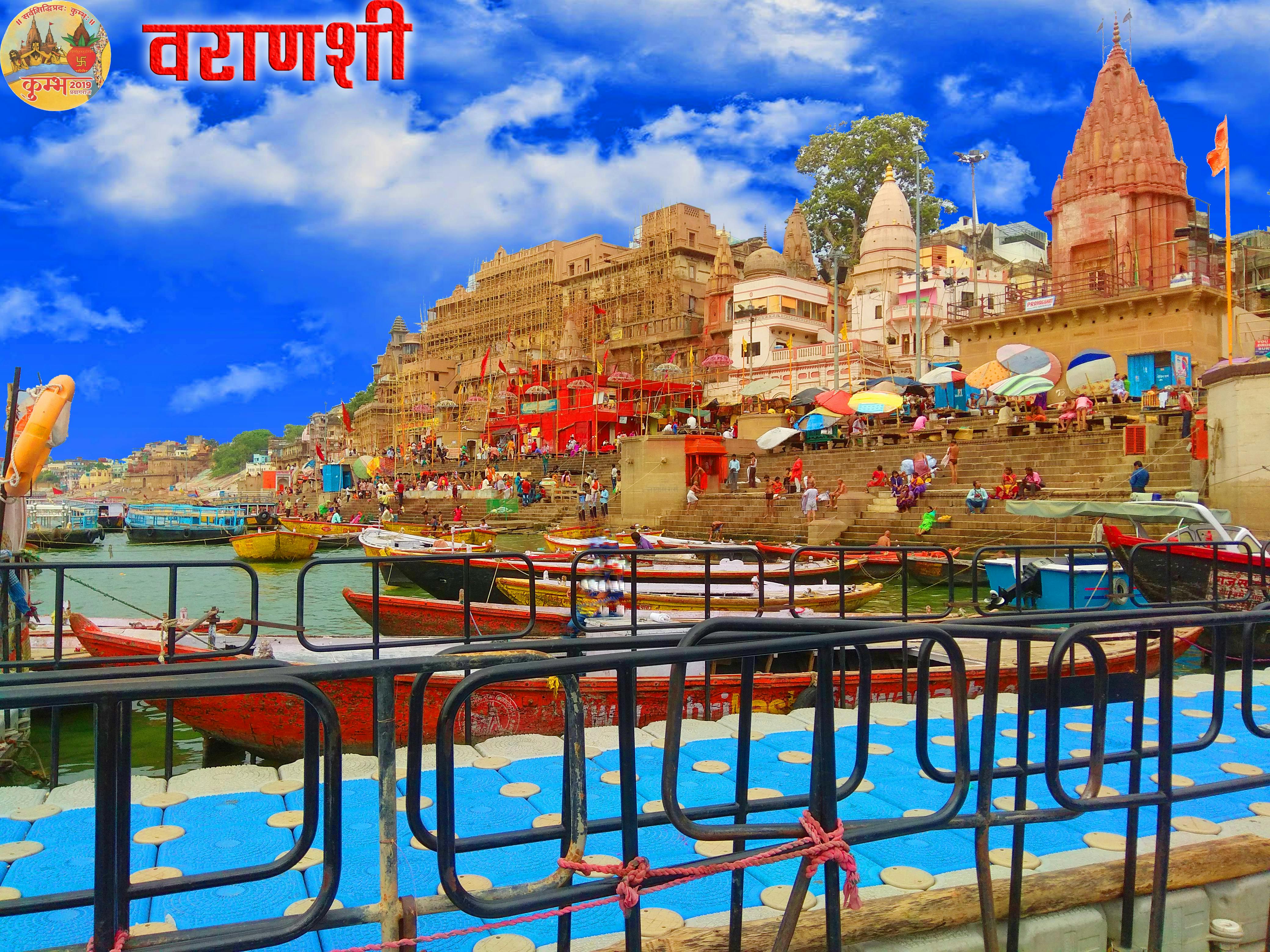 Best Places to visit in North India
Allahabad : Now it is known as Pragayraj. The city witnesses the sangam of three rivers : Ganga, Saraswati and Yamuna. The city arranges for Kumbh Mella every 12 years which hold important value to the hinduism followers. The best places to visit in Prayagraj are
Allahabad Museum, Allahabad Fort, Sangam, Khusro Bagh and Anand Bhawan
Mathura and Vrindavan : According to Hindu writings these places are associated with Lord Krishna. These two places hold special value in the heart of Krishna's devotees.
Situated on the banks of River Yamuna the famous places to visit are :
Mathura : Krishan Janam Bhoomi Mandir, Radha Kund, Govardhan hills, Kans Qila, Dwarkadhish temple
Vrindavan : Iskcon Temple, Keshi Ghat, Nidhi Van, Prem Mandir, Bankey Bihari Mandir and other temples local to the place.
How to reach: All the places mentioned above are easily accessible by local transport. You can easily reach the nearest stations by bus pr railways and they have got nearest airports also
As, now you have the list of most famous places to visit in India. So decide on a date and get ready to enjoy the marvellous beauty and historic experience offered by the beautiful landforms of India. In this we have majorly covered the best places to visit in North India, will be shortly coming with other places in South India. Come and set your mind free from all stress and daily hectic routine.
If you have any query regarding your trip to any of these places or want more detailed information regarding trip planning, then feel free to write us back. We will answer all your questions.
Our Team, wishes you a very joyous, enjoyable and memorable journey to the places.(Best Places to visit in North India)